What's Happening at the Jessamine County Historical Society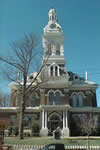 Recent Donations: We would like to thank Pete Sutherland for donating his mother's, Jane Collins Evans Sutherland, family history and photos. This is the largest collection of photos ever donated to us. The donation includes the Young, Collins, and Evans family Bibles. They are on display at the Jessamine County Historical Society office.
---
Celebrating 45 Years! We would like to thank all our members and supporters over the years. Our organization could not exist without you. We are looking forward to the next 45 years that will be even better. The Historical Society was organized in January 1969 with 81 charter members. Some of the early presidents were Mrs. Weldon Simpson, Mr. Marlin Marrs, and Mr. Robert Suell.
October 31st Halloween Trick or Treat: Be sure to stop by the Jessamine County Historical Society Office between 6:00 pm & 7:30 pm as we will be handing out treats for the youngsters!

December 13th Open House: The Jessamine County Historical Society office will be open between the hours of 10:00 am & 5:00 pm. Everyone is welcome to stop by to see what we have to offer. We will have free, personalized Santa Hats for the children and Family History Sheets you can complete.

January 22, 2015: This will be our next, regular, monthly meeting at the Historical Society office. Please join us at 7:00 pm.


Cemetery News: Two of our cemeteries have been approved for Pioneer Cemetery designation. They are the Isaac Shelby Cemetery at High Point Golf Course and the Dickerson family cemetery at East Jessamine County Middle School. We hope to have a dedication service to commemorate this event. Check back for further information.

The George Stoval Smith Cemetery rock wall has been restored. Mr. William H. Baile IV restored the five breaks in this old 1936 cemetery wall. We send our special thanks to all that donated toward this restoration. They are Bob Wilson, Ben Wilson, Mary Caress, Alice Hills, David Schoumer, Richard Stowe, Howard Downing, and Connie Shotts.