What's Happening at the Jessamine County Historical Society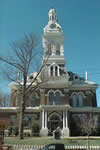 Some 2014 Contributions (does not include monetary donations): Elexene Cox, Margaret Morgan, Karen Rue, Bill Russell, Bettye Lee Mastin, Harold Higgs, Anna Gayle Vickers, Wesley Village, George Dean, Jo Mae Bradshaw, Sherrell Brown, Natalie Dominaco, Dennis Traynor, Richard Lucas, and the Jessamine County Public Library

Our First Gold Sponsor is Janelle Fain. We want to thank her for her most generous sponsorship.


---
Our theme for 2015 will be the Military. To kick off our theme, we have started an Oral History Project at the Thomson Hood Veterans Center. Five interviews have been completed to date and the sixth is scheduled for early 2015. Please see the "Maps & Pictures" tab for a picture and short biography on each of our interviewees. DVD's are available at the Jessamine County Historical Society office for viewing.


February 26, 2015: This will be our next, regular, monthly meeting at the Historical Society office. Please join us at 7:00 pm. To celebrate Black History Month, our featured speaker will be Michael E. Crutcher, Sr. He is known for his portrayal of "Frederick Douglass". It is sure to be a very enjoyable evening!

Cemetery News: Mr. Orville Duane Sharon and his family visited the 2/9 Scott Cemetery, the old home site of Stoney Lonesome, Roberts Chapel, and the Scott/Roberts Cemetery. We greatly enjoyed their visit. Their generous donation will help us maintain the Scott family cemeteries, as well as many others in the county.