What's Happening at the Jessamine County Historical Society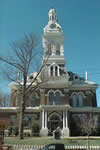 Grant Funds:
We have been informed that you will see a new box you may check on your Kentucky State Income Tax form. It is now possible to designate a portion of your state income tax refund to the Kentucky Local History Fund. The Jessamine County Historical and Genealogical Society qualifies to receive grant funds from this fund, which is overseen by the Kentucky Historical Society. Please feel free to stop by the office for more information.
A Sincere THANK YOU:
We want to thank all the individuals and organizations that made very generous donations to the Jessamine County Historical Society this year. They are: Cynthia Parker, Jerry & Sherrell Brown, Janelle Fain Ragland, Richard Lucas, Tracy Lucas, Kathy Hall, Ray Clark, Harold Higgs, Louise T. Jones, Richard A. Barclay, Dr. William McCaw, Rev. Dewane Brewer, Jessamine County Public Library, the Family of Irma Mae Ewy, Officer Henry Blades, Walmart, J. L. Dickson, Bill Russell, Pat Hunt, David E. Zehmer, Ernestine Hamm, Tom G. & Beth Holt, Anna O. Jackson, Mayor Pete Sutherland, and Ann Watts.
Membership Renewal:
Please don't forget to renew your annual membership. The total amount of your dues goes toward maintaining your Jessamine County Historical Society. Without you, we could not exist. If you have friends or family that are interested in Jessamine County, please encourage them to join the Society. Click on the
Membership & Sponsorship
tab for an application to either mail or drop off at our office.
Kroger Community Rewards Program:
The Jessamine County Historical Society has recently enrolled in the Kroger Community Rewards Program which is completely free and allows the Society to receive monies based upon our members' purchases. We encourage everyone to enroll their Kroger Plus cards and select the Jessamine County Historical & Genealogical Society as their preferred donation organization. The printable PDF instructions may be obtained by clicking
here
.
---
Cemetery News: We have five cemeteries that are in or around new developments. They are the Walker Cemetery on U. S. 27, the Cravens Cemetery on Brannon Pike, the Bourne Cemetery on Main Street, the Griffing Cemetery, and the old cemetery located on the historic Chaumiere Farm on Catnip Hill. The Griffing Cemetery predates Camp Nelson and is the burial place of Jasper Griffing, a Revolutionary War soldier. You can support our Cemetery Project with your tax exempt donation. With the death of some of our older sponsors, or donations for this year have been very little. We greatly appreciate any support you can give. Ernestine Hamm.