What's Happening at the Jessamine County Historical Society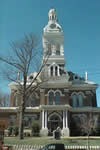 Quarterly Meetings:
Due to the illness of several of our members, we will begin having quarterly business meetings instead of monthly meetings until further notice. Our next meeting will be October 25, 2018. We will meet again on January 24, 2019. We will still have our weekly informal Thursday afternoon meetings between 1:00 and 3:00 PM. Please feel free to join us.
2018 Upcoming Meetings and Events:
October 25th - Quarterly Business Meeting only. The business meeting will include the election of a board member.; December (day to be determined) - Open House. Please stay tuned for more information on our guest speakers at each Quarterly Meeting held at our office at 7:00 PM. The location of our office is 216 North Main Street, Farmers Square, Nicholasville, KY.

​
Jessamine County Pictorial History Book 2016:
The new Jessamine County Pictorial History Book 2016 is available for purchase through our office. It can be obtained by stopping by our office on Thursday afternoons between 1:00 & 3:00 pm, or by printing an order form & mailing to our office. Please see the link on our "For Sale" website page.
​
​​
Offutt Family Cemetery:
Thanks to the hard work of Ernestine Hamm, the Offutt Family Cemetery has been found and cleaned up. There were several broken stones that have been pieced together. The full story by Mr. Tom Eblen with the Lexington Herald Leader can be accessed by clicking the following link:
http://www.kentucky.com/news/local/counties/fayette-county/article111348312.html
Kroger Community Rewards Program Annual Re-enrollment:
Thanks to all that have supported the Jessamine County Historical Society through this very worthwhile program. There has been a change to Kroger Community Rewards Program. In past years, August 1st began the re-enrollment period. Effective immediately, all participants will roll over and stay enrolled in their organization instead of having to re-enroll each year.
​Enrollment for NEW participants will work the same as in the past. You may enroll at
www.kroger.com/communityrewards
or call 1-800-KROGERS and choose option #3. The Kroger Community Rewards Program, which is completely free, allows the Society to receive monies based upon our members' purchases. We encourage everyone to enroll their Kroger Plus cards and select the Jessamine County Historical & Genealogical Society as their preferred donation organization. The printable PDF instructions may be obtained by clicking
here
.
Grant Funds:
We have been informed that you will see a new box you may check on your Kentucky State Income Tax form. It is now possible to designate a portion of your state income tax refund to the Kentucky Local History Fund. The Jessamine County Historical and Genealogical Society qualifies to receive grant funds from this fund, which is overseen by the Kentucky Historical Society. Please feel free to stop by the office for more information.
A Sincere THANK YOU:
We want to thank all the individuals and organizations that made very generous donations recently to the Jessamine County Historical Society. They are: Jo Singleton Stacy, Melissa S. Daniel, Bettye Lee Mastin, and the Nicholasville Presbyterian Church.
WELCOME New Members:
Ray Clark, Sue Clark, JoAnn Lowery, Ken Rickard, Jacob Walker, Judy Woolums, Brian W. Young, and Wini Mastin Yunker.
Membership Renewal:
Please don't forget to renew your annual $20.00 membership. The total amount of your dues goes toward maintaining your Jessamine County Historical Society. Without you, we could not exist. If you have friends or family that are interested in Jessamine County, please encourage them to join the Society. Click on the
Membership & Sponsorship
tab for an application to either mail or drop off at our office.
---
Cemetery News: No breaking news in the cemetery. We are finishing our fall cleanup and preparing for winter. We have had many inquiries for information on some of our cemeteries and the history on those buried there. We have had approximately twenty visitors so far, and we are looking forward to Mrs. Betty Jean Moore from Little Rock. She and her family will be here in November. Ernestine Hamm.