What's Happening at the Jessamine County Historical Society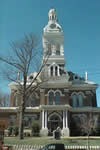 June 25th Annual Members' Picnic:
Our annual members' potluck and monthly meting will be held at High Bridge this year. We will gather at 12:00 Noon on Saturday, June 25th. Please RSVP, as soon as possible, to pwhunt27@aol.com with the number in your party and what dish you will be bringing - salad, dessert, or vegetable. The guest speaker will be Mr. George Dean. This promises to be a fun and informative event. We hope to see all our members there!
July 6th Blue Grass Trust deTours at Chaumiere des Prairies in Jessamine County:
On Wednesday, July 6, BGT deTours will travel for the first time to Jessamine County to explore the Chaumiere des Prairies
Chaumiere des Praries which is located at 1439 Catnip Hill Road, Nicholasville. From Lexington, take Harrodsburg Road (US 68) and make a left onto Catnip Hill Road (KY 3375); the property will be on your left. We will gather at 5:45 pm at the historic property before beginning the tour at 6:00 p.m. As always, BGT deTours are free and open to the public.
Colonel David Meade acquired some 330 acres of land in this area on which he created his version of Paradise on which he built gardens that were said to have rivaled those of Versailles. Of the original structures, only the octagonal room remains. The main house was built ca. 1840 by a subsequent owner.
An auction following Colonel Meade's death found the buyer a "plain practical farmer" following which neighbors erected a sign over the entrance to the state, with a Miltonian reference to the expulsion of Adam and Eve from the Garden of Eden: "Paradise Lost."
Although the gardens are long gone and its site is 13 miles from Lexington's city center, the Chaumiere des Praries was another part of what made Lexington the Athens of the West.
The clubhouse at Connemara Golf Course will be the location of our social AfterHour.
The award-winning BGT deTours program is designed to provide tours of places you might not normally get to see, helping people interact with and learn about sites that make the Bluegrass special. For young professionals (and the young at heart!), deTours are always the first Wednesday* of the month at 5:30 pm*, and are always free and open to the public (*exception being holidays, weather and out-of-county locations).
July 28th Monthly Meeting:
The July meeting will be held on July 28, 2016 at 7:00 pm. The monthly meeting will be located at the Jessamine Historical Society office, 216 N. Main Street, Nicholasville, KY. Our guest speaker will be Mr. C. M. Huddleston.
Grant Funds:
We have been informed that you will see a new box you may check on your Kentucky State Income Tax form. It is now possible to designate a portion of your state income tax refund to the Kentucky Local History Fund. The Jessamine County Historical and Genealogical Society qualifies to receive grant funds from this fund, which is overseen by the Kentucky Historical Society. Please feel free to stop by the office for more information.
A Sincere THANK YOU:
We want to thank all the individuals and organizations that made very generous donations recently to the Jessamine County Historical Society. They are: James Faulconer, Janelle Fain Ragland, Brenda Houp, Bettye Lee Mastin, Brian Young, and Maple Grove Cemetery.
WELCOME New Members:
Ray Clark, Sue Clark, JoAnn Lowery, Ken Rickard, Jacob Walker, Judy Woolums, Brian W. Young, and Wini Mastin Yunker.
Membership Renewal:
Please don't forget to renew your annual $20.00 membership. The total amount of your dues goes toward maintaining your Jessamine County Historical Society. Without you, we could not exist. If you have friends or family that are interested in Jessamine County, please encourage them to join the Society. Click on the
Membership & Sponsorship
tab for an application to either mail or drop off at our office.
Kroger Community Rewards Program:
The Jessamine County Historical Society has recently enrolled in the Kroger Community Rewards Program which is completely free and allows the Society to receive monies based upon our members' purchases. We encourage everyone to enroll their Kroger Plus cards and select the Jessamine County Historical & Genealogical Society as their preferred donation organization. The printable PDF instructions may be obtained by clicking
here
.
---
Cemetery News: We have begun visiting our cemeteries to check for downed trees and fences. We will begin spraying for weeds the first part of March, if the weather is ready. We already have three families coming in from out of town to visit some of our older cemeteries. We are very proud of the number of graveyards that have been restored and are being maintained by us and by others. Many thanks to all those who have helped over the years to locate, record, and protect these pieces of our Jessamine County history. Ernestine Hamm.