We were so saddened to hear of the passing of one of our long time Society members. Mr. Howard Curry Teater served as our President for 3 terms. His first term was from 1991 through 1993, then continued for a second term from 1993 through 1995. He then served from 2001 through 2003. He was very instrumental in finding many of the old cemeteries in Jessamine County. He published three cemetery books that are widely used today. We send our condolences to all his friends and family. Mr. Teater will be missed.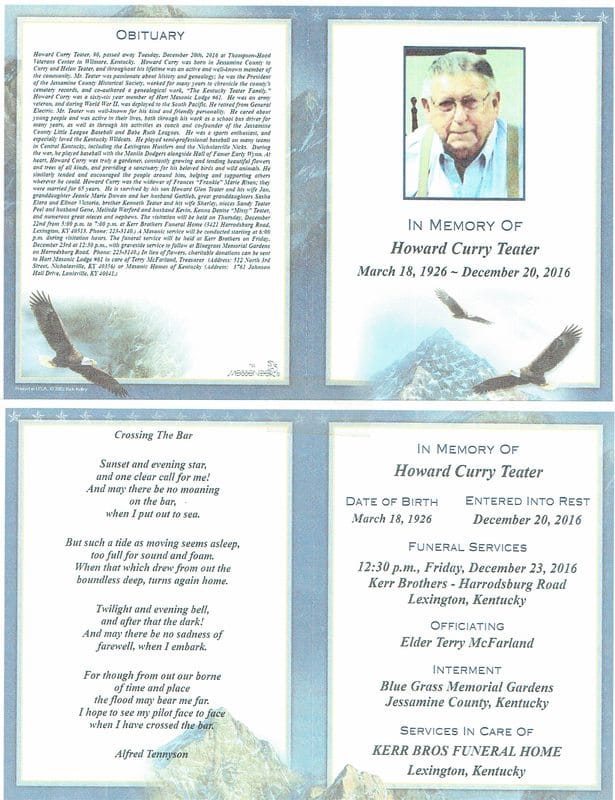 What's Happening at the Jessamine County Historical Society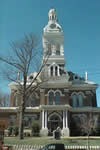 We wish all our members, contributors, and community a Merry Christmas and Happy New Year

Jessamine County Pictorial History Book 2016:
The new Jessamine County Pictorial History Book 2016 will be available for purchase at the Historical Society office starting Thursday December 15th, 2016. If you didn't pre-order a copy or would like to have more for yourself or for gifts, please come visit us. Our temporary office hours will be from 12:30 pm to 3:00 pm Monday through Friday.
​​
Business Meeting, January 26, 2017:
Our first business meeting of the new year will be held at the Jessamine County Historical Society office at 216 North Main Street, Farmers Square, Nicholasville, KY.
February 23rd meeting:
Our guest speaker for this meeting will be Ms. Valerie Scott.
March:
Our annual Chili Cook-Off will be held in March. More information will follow in the coming months.
Offutt Family Cemetery:
Thanks to the hard work of Ernestine Hamm, the Offutt Family Cemetery has been found and cleaned up. There were several broken stones that have been pieced together. The full story by Mr. Tom Eblen with the Lexington Herald Leader can be accessed by clicking the following link:
http://www.kentucky.com/news/local/counties/fayette-county/article111348312.html
Kroger Community Rewards Program Annual Re-enrollment:
Thanks to all that have supported the Jessamine County Historical Society through this very worthwhile program over the last several months!! Kroger requires that everyone renew their program selection during the month of August. Please follow the instructions below:
RE-ENROLLMENT STARTS AUGUST 1:
How to RE-ENROLL in Kroger Community Rewards (if currently participating)
1. Go to www.Kroger.com
2. Click the blue Sign In tab at top of the page.
3. Enter your email address and password and click the blue Sign In tab.
4. From the department menu, click Community, then Community Rewards
5. From Community Rewards, click on the Edit or Re-enroll button.
6. Find Organization (Search by keyword or nonprofit organization number - NPO #97146)
7. Select Organization (Click the button to the left of the organization - Jessamine County Historical & Genealogical Society)
8. Save your Selection (Click the Save button to save your selection.)
9. Call 1-800-KROGERS, Option #3, with questions.
Grant Funds:
We have been informed that you will see a new box you may check on your Kentucky State Income Tax form. It is now possible to designate a portion of your state income tax refund to the Kentucky Local History Fund. The Jessamine County Historical and Genealogical Society qualifies to receive grant funds from this fund, which is overseen by the Kentucky Historical Society. Please feel free to stop by the office for more information.
A Sincere THANK YOU:
We want to thank all the individuals and organizations that made very generous donations recently to the Jessamine County Historical Society. They are: James Faulconer, Janelle Fain Ragland, Brenda Houp, Bettye Lee Mastin, Brian Young, Jerry and Sherrell Brown, Elexene Cox, the Carroll S. Carter family, and Maple Grove Cemetery.
WELCOME New Members:
Ray Clark, Sue Clark, JoAnn Lowery, Ken Rickard, Jacob Walker, Judy Woolums, Brian W. Young, and Wini Mastin Yunker.
Membership Renewal:
Please don't forget to renew your annual $20.00 membership. The total amount of your dues goes toward maintaining your Jessamine County Historical Society. Without you, we could not exist. If you have friends or family that are interested in Jessamine County, please encourage them to join the Society. Click on the
Membership & Sponsorship
tab for an application to either mail or drop off at our office.
Kroger Community Rewards Program:
The Jessamine County Historical Society has recently enrolled in the Kroger Community Rewards Program which is completely free and allows the Society to receive monies based upon our members' purchases. We encourage everyone to enroll their Kroger Plus cards and select the Jessamine County Historical & Genealogical Society as their preferred donation organization. The printable PDF instructions may be obtained by clicking
here
.
---
Cemetery News: Our last cemetery for the year is the Griffing Family Cemetery located at Camp Nelson. It contains the graves of Jasper Griffing, a Revolutionary War soldier, who died in 1809. The grave of his wife, Elizabeth, is also located there. Little is known about this family except that their son, Jasper Griffing, Jr., married Kitty Scott, a daughter of Hervey Scott. They re buried in a small graveyard close by. We are grateful to Wayne Hayden for putting up the time-period fencing to protect this cemetery from the cattle. We will probably have to wait until spring to reset and repair the stones due to the weather.
​ In August, members of the DAR Trabune Chapter helped clean the Capt. William Anderson Cemetery. Thanks to Susan Buffin, Carla Ray, Terry Perkins, Susan Moore, and Brenda Richardson. Our own Lee Robinette helped on this project. Great job everyone!
We are looking forward to next year, as we are hoping to honor the 100th anniversary of World War I by collecting information on those that were killed and where they are buried. We would also like any information on all those that served from Jessamine County.
​ We hope that you will join our efforts to preserve the history of Jessamine County for the present and the future. In October we lost James Bates, our only hired help. He worked with us for about 10 years and is greatly missed. Ernestine Hamm.